6 Luxury Beachside Suites
Raw Organic Plant Based Food Cafe
ILU

MINAR

Yoga Hotel

 

Steps from the sand, these 6 luxury beach side king suites offer roof top decks with ocean view, outdoor rain showers and an exclusive beach trail on the desirable north end of Guiones Beach, Nosara.  Each 450 ft suite has been consciously designed with "healthy wet bars," complimentary organic raw delicatessens, locally sourced coffee and tea and are equipped with blenders, tea kettles, coffee makers, fridges and other kitchen utensils. Restfulness abounds with platinum bedding and linens, AC, private outdoor terraces with comfortable seating, hammocks, yoga mats and meditation zones.

Amenities of Iluminar include complimentary beach cruisers, surfboard storage lockers, daily community yoga and meditation classes at our open-air yoga studio will begin in May, Rancho Luz as well as access to our sister hotel KayaSol which has a zero-depth waterfall pool, gratuitous filtered water and a vegetarian based restaurant open from 7 am – 9 pm. To help preserve the serenity of Iluminar and Rancho Luz we kindly ask families with children under 7 to make their reservation at our family-friendly sister hotel KayaSol. Iluminar is EMF free with wired internet access while KayaSol has Wifi available. To learn more about EMF free living click here: To Plug or Not To Unplug or https://www.emfanalysis.com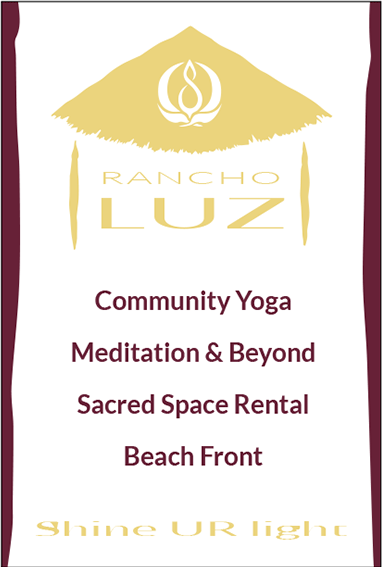 Rancho Luz Yoga Studio
Rancho Luz "the lighthouse" is a sacred space created to inspire and nurture spiritual-awakening, self-care and community. The convenient beach-side location allows a seamless integration between ample yoga and surf sessions. The high season months of Dec-April, daily classes of yoga, meditation & beyond are offered. During these months, guests of Iluminar are invited to join 1 class per day included in their stay. Green season months of May – Nov, Rancho Luz becomes a space holder for private retreats. During these months, special events hosted by the retreat leaders are offered for both Iluminar guests and the community. Throughout the year there is a designated time set aside each day when all are invited to share the open space and practice their daily Sadhana.
For our community class schedule CLICK HERE. For retreat information CLICK HERE.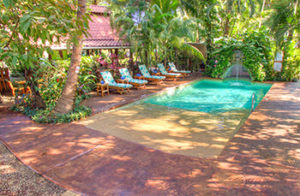 Our sister property KayaSol Surf Hotel located 50 ft away invites guests of Iluminar to enjoy their refreshing zero-depth entry waterfall pool and chill areas complete with WIFI.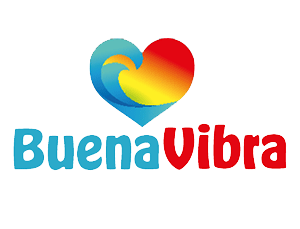 High vibrational grab & go organic raw-food delicacies located in reception. Enjoy fresh-pressed jungle-juices, nut-butters, bliss-balls, cacoa treats and more!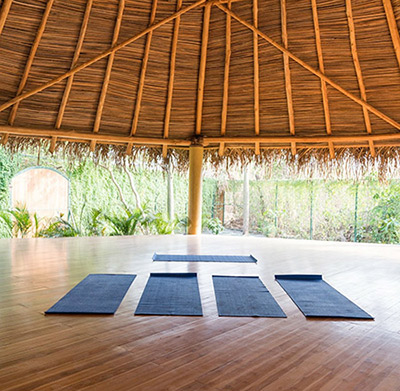 Rancho Luz "the lighthouse" is the name of our spacious open air yoga studio located on the border of the beach refuge of Playa Guiones, Nosara. Steps from the surf, the concept of Rancho Luz was birthed from the highest state of bliss, known as "Sahej", that is experienced from the synergistic relationship of combining surfing and yoga.
A Life Changing Experience
"I had the pleasure and to be able to stay at the phenomenal Iluminar Yoga Hotel in the beginning of January 2018. This place was life changing for me. You have access to your own private pathway that leads directly to the beach at anytime you want. The rooms are spectacular, clean, spacious, comfortable and peaceful. The staff are extraordinary and will treat you with the utmost respect and ‎kindness and answer any and all of your questions. Everything and more was above and beyond satisfaction from each and every staff member that is there. There is also Ryan, Ryan will immediately make you feel at home and embrace you with open arms. When you are looking for that happiness, peace and kindness in return from someone, look no further than Ryan, as he will give back to you the kindness that we give out to each and everyone that crosses our path during a day. He wears his passion for people as well as the Iluminar in his heart and will go to any lengths to make you feel as comfortable and have a time that you will be wanting to come back to again and again. The Iluminar, was a life changing experience for me. To wake up in the morning, sun shining bright, hit the surf, come back and interact with some of the kindest people I have had the pleasure of knowing and end the day out with a sunset that will take your breath away and have you speaking about for many, many years to come. If you are looking for a place to stay, please, look no further than the Iluminar and experience a stay of a lifetime. I without question will be back as soon as possible, and immediately without hesitation will be staying at the Iluminar with Ryan and his remarkable staff and family. "We all want to receive that peace, love and kindness that we give out to others in this world in return. You will find this in return while you stay at the Iluminar." Pura Vida Everyone! Steve
BEST VACATION EVER
"Best. Vacation. Ever. I feel so lucky and grateful to be one of the first guests at this amazing hotel. We loved the privacy, vibe and staff. Everything was built just perfectly with the room's thoughtful and serene aesthetics. From the moment we walked through the doors there was something uniquely beautiful about this place. With its terrace and roof deck and modern kitchenette, we had our own little oasis in paradise and just steps to beach! The restaurant had great food and smoothies which we took full advantage of every morning. We will be back again…definitely." Mara
New Year's at Illuminar
"I stayed at Illuminar for a week over New Year's and it was an amazing experience! I highly recommend staying there for anyone that wants a beautiful retreat a short walk down a jungle path to the beach. The hotel is the sister property of Kaya Sol so you have access to all the amenities including restaurant, pool and help from the owners Ryan and Sohan and Suzy the manager. They're all super friendly and warm and made our group feel like part of their family. I've traveled a lot, but I have to say my room at Illuminar was one of the nicest places I've stayed. The rooms are beautifully designed and furnished with lots of creative, personal touches — it's clear that a lot of thought and love has been put into it. In addition to the spacious room you have an outdoor terrace and if you stay on the second floor you have your own deck for gazing at the stars. I was traveling with several families who stayed at Kaya Sol which has more of a fun/family vibe — Illuminar is best for people that want a quieter retreat. They're in the final stages of finishing an open air yoga studio in front which I'm looking forward to trying next year! Thank you so much for a beautiful stay — I'm honored to be one of your first guests and wish you all the best!!! Pura Vida!!!" Peggy