Earth and Air Beachfront Suites
Spacious Rooms with Kitchenette
Iluminar
Beachfront Suites
Steps from the sand, our 7 luxurious King Suites offer privacy, quietude and creature comforts in Nosara's desireable North End. Just a block away from an eclectic array of shops, restaurants & activities yet surrounded by serenity of our gardens and the ever-present lure of Mother Ocean.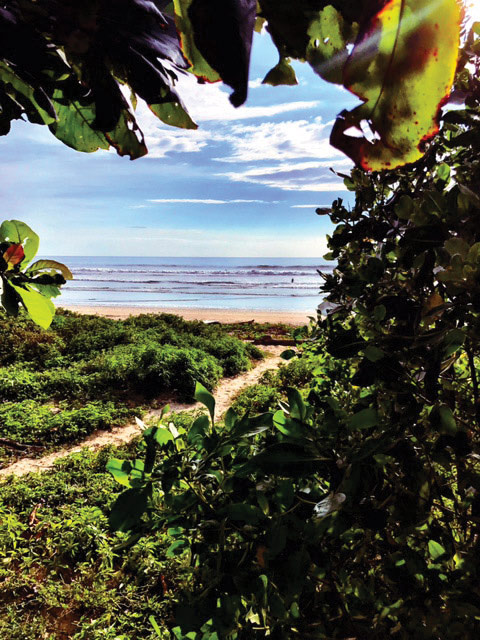 Direct Beach Access = No Shoes Required!
Step barefoot outside your beachfront suite onto the soft sand trail. Wander through the 200M Beach Refuge for awe-inspiring sunsets, year round warm water waves or a full moon stroll.
Off The Beaten Path
Nosara is known as an "Off The Beaten Path Resort Town without the Resorts in one of the world's foremost Blue Zones." People are happier here, healthier and they live longer. We invite you to come and discover the true meaning of "Pura Vida," the "Pure Life."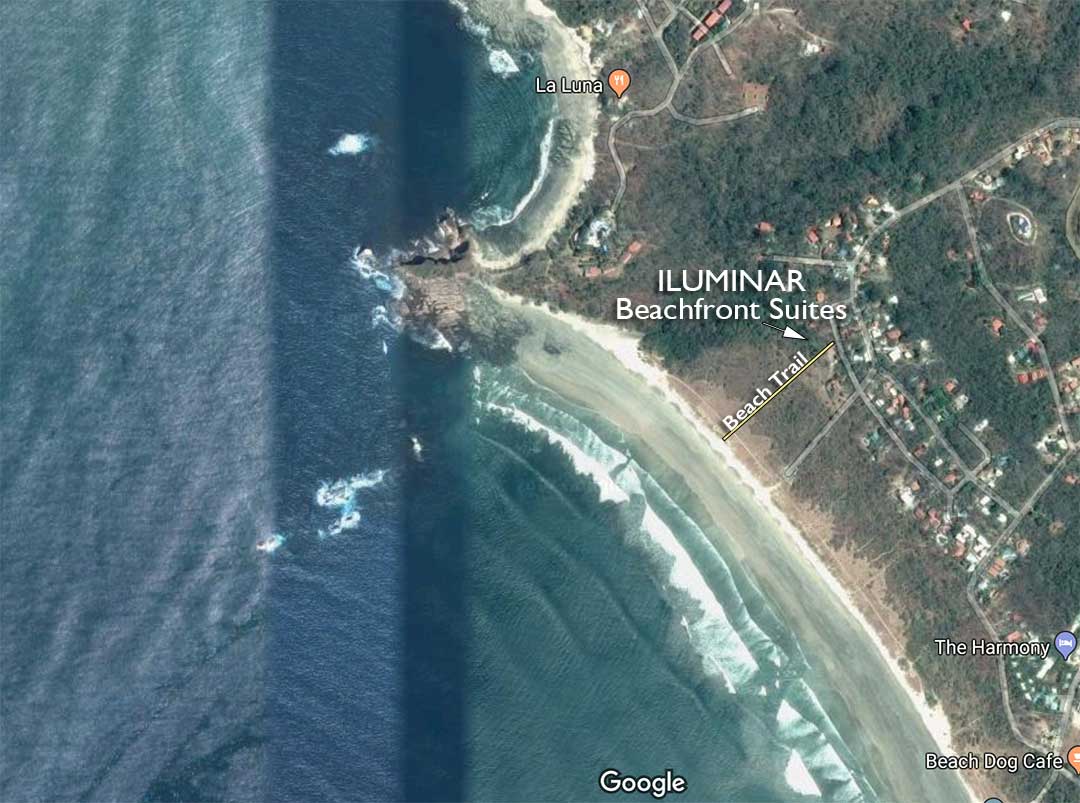 Beautiful Accommodations
"From the beautiful accommodations, to the the excellent food, staff and location, this is easily one of my favorite spots in Costa Rica. A very relaxing energy permeates through the air enabling all the stresses of life to fade away. Easy access to an amazing beach doesn't hurt either" 😉 Alex Johnson
Beachfront Air Suite
My husband and I had a beautiful stay in February 2020. We stayed in a 2nd floor suite and the room was big, had 2 balconies, and very comfortable bed! The beach access with private path is unbeatable, along with amazing yoga in the yoga shala. Highly recommend to anyone looking to relax, recharge, surf, yoga, and be healthy! We will definitely be back 🙏😊! Olga Missry
This Place is Gorgeous!
"This place is totally gorgeous, the rooms are impecable, modern and super comfy. The beach is stunning as well and the staff is super friendly. The yoga classes are amazing and very well organized. There are many restaurants around. I hope to come back in the near future." Natalie Vanq
A Life Changing Experience
"I had the pleasure and to be able to stay at the phenomenal Iluminar Yoga Hotel in the beginning of January 2018. This place was life changing for me. You have access to your own private pathway that leads directly to the beach at anytime you want. The rooms are spectacular, clean, spacious, comfortable and peaceful. The Iluminar, was a life changing experience for me. To wake up in the morning, sun shining bright, hit the surf, come back and interact with some of the kindest people I have had the pleasure of knowing and end the day out with a sunset that will take your breath away and have you speaking about for many, many years to come. If you are looking for a place to stay, please, look no further than the Iluminar and experience a stay of a lifetime. Pura Vida Everyone!" Steve
Top Floor Suite
"This place is just like their name–good vibes indeed. Very laid back, totally Pura Vida. It's all about wellness, surf, and yoga. The yoga teak wood temple has a thatched roof, and it's nestled within their beautiful garden of the ocean-facing flats. I stayed in the #6 top floor suite. It was absolutely DIVINE. Spacious room, very comfortable king-size bed, suspended reading day bed, balcony with a sofa AND a hammock. There is more! Stairs to the roof to see the sunset or the waves of the Playa Guiones. Perfect for meditating! This place is a great value, a super yummy healthy breakfast, and unlimited yoga classes included daily with your stay. The owners and staff make it even better. Many thanks to them. I miss that place already!" Jodie Penhall
BEST VACATION EVER
"Best. Vacation. Ever. I feel so lucky and grateful to be one of the first guests at this amazing hotel. We loved the privacy, vibe and staff. Everything was built just perfectly with the room's thoughtful and serene aesthetics. From the moment we walked through the doors there was something uniquely beautiful about this place. With its terrace and roof deck and modern kitchenette, we had our own little oasis in paradise and just steps to beach! The restaurant had great food and smoothies which we took full advantage of every morning. We will be back again…definitely." Mara
New Year's at Illuminar
"I stayed at Illuminar for a week over New Year's and it was an amazing experience! I highly recommend staying there for anyone that wants a beautiful retreat a short walk down a jungle path to the beach. I've traveled a lot, but I have to say my room at Illuminar was one of the nicest places I've stayed. The rooms are beautifully designed and furnished with lots of creative, personal touches — it's clear that a lot of thought and love has been put into it. In addition to the spacious room you have an outdoor terrace and if you stay on the second floor you have your own deck for gazing at the stars. Pura Vida!!!" Peggy